Lifeguards get award for Porthtowan body boarder rescue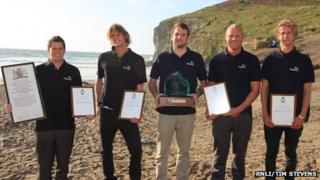 Five Cornish lifeguards have been presented with an award for rescuing a body boarder in dangerous seas.
Josh Ward, Ben Sowter, Adam Bunt, Chris Lowry and Marcus Lascelles were presented with the Alison Saunders Lifeguarding Award.
The five men were involved in the rescue of a body boarder at Porthtowan in September 2011.
The award is given annually for the "most meritorious rescue" by RNLI lifeguards.
'Extremely brave'
Mr Lascelles was also presented with the Thanks of the Institution, the fourth highest award given by the charity, for his bravery in performing the rescue.
The lifeguards were honoured for saving body boarder Tom Durrant who was struggling to cope in large, 6-8ft (1.8-2.4m) waves.
Mr Lascelles used a rescue board to paddle out to the body boarder.
The rough conditions meant an inshore rescue boat was unable to get close enough to the pair to pick them up.
Mr Lascelles eventually helped the body boarder to scramble to safety over the rocks.
Dickon Berriman, RNLI lifeguard manager, said: "It was an extremely brave rescue carried out by Marcus with the back-up of his colleagues.
"Conditions on the day were very demanding and the casualty was very lucky."