Tesco heliport challenge 'was to safeguard Penzance service'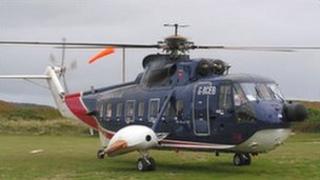 Tesco has defended a decision to bring a legal challenge over plans to sell a heliport in Cornwall to a rival supermarket.
British International Helicopters (BIH) wanted to sell the Penzance site to Sainsbury's.
BIH said delays caused by the challenge meant it will be ending its services to the Isles of Scilly in November.
Tesco said its move was to secure the services. Cornwall Council said Tesco should reconsider its action.
'Serious implications'
BIH was due to move from the 15-acre site at the end of October because of the Sainsbury's deal, approved by Conservative-Independent led Cornwall Council.
BIH planned to use the proceeds from the sale to buy new aircraft for a new site and bid for new business.
It said the decision to close was triggered by "legal action taken by Tesco and two private individuals".
The uncertainty created by challenges - including Tesco's - meant funds from the sale would not be released in time to secure its future, it said.
In a letter to Tesco seen by BBC News, Chris Ridgers, Cornwall Council economy cabinet member, said he hoped the supermarket firm was "fully aware of the serious implications of its actions".
In the letter dated 3 August, he said helicopters were "a fundamental part of the flying links to the islands", and that the cut would affect the tourism of the islands and west Cornwall.
He said: "I ask that you reconsider your company's actions and the implications for the local communities should you leave in place your judicial review."
Tesco said it understood "the value and importance of the Penzance Heliport".
It said: "Its loss would impact local residents, including our staff and customers, as well as other businesses.
"We are challenging Cornwall Council, not the heliport operators.
"The aim of our challenge is to secure the service for the future, not end it."
Tesco communities director Michael Kissman added it was not about stopping a rival store coming into the town.
BIH's service, which has offered as many as 40 flights a day since starting in 1964, is thought to be used by up to 130,000 people a year.
The Scillonian ferry service to the islands from Penzance remains, as do Skybus aeroplane services from Bristol, Exeter, Land's End, Newquay and Southampton.
Sainsbury's said it was still committed to bringing a store to Penzance.