Post offices open on Sunday in Cornwall to sell Glover stamps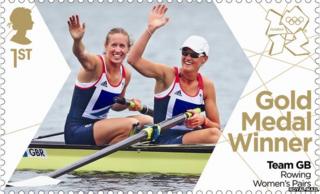 Three post offices in Cornwall opened on Sunday so people could buy special edition stamps marking rower Helen Glover's Olympic victory.
Glover, who grew up in Penzance, and her rowing partner, Heather Stanning, won Team GB's first gold last week.
Royal Mail rushed out the limited edition stamps nationwide, but they sold out quickly in Cornwall.
The "unprecedented demand" meant post offices in Camborne, Penzance and Truro were opened, the Post Office said.
Glover and Stanning - the first British women to win rowing gold - are the first all-female sports team to appear on a Royal Mail stamp.
When the stamps were first released, the day after the pair's win, they ran out in less than an hour in Penzance.
The special edition stamps can also be found on the Post Office's website.
In further recognition of Glover's Olympic achievement - the 26-year-old only started rowing four years ago - a postbox in Penzance's Quay Street has been painted gold.
Its original red colour will be reinstated in six months.