Fancy dress girl receives 'thank you' from the Queen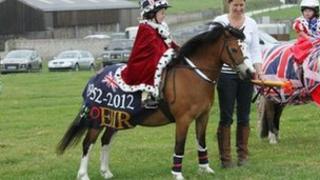 Buckingham Palace has written to a Cornish schoolgirl thanking her for her efforts to honour the Queen's Diamond Jubilee and the London Olympics.
Pippa James, 6, from Hayle, has been entering local horse show fancy dress competitions all year, dressed as the Queen with her show pony Spiral.
Back in April, Pippa and her mother sent a letter to the Palace and have now received a reply saying the Queen "much appreciated your kind thought for her in this special year".
The letter "apologises for not replying sooner" but said the Queen receives "hundreds of letters every day during this Diamond Jubilee".
The reply from the Queen's Lady in Waiting thanked Pippa for sending the letter and the two "charming photographs of you and your pony Spiral".
Pippa's Queen costume - made by her mother, Helen and her grandmother - includes a crown and robe and her pony Spiral wears a coat with the Olympic rings and Royal emblems.
Ms James said: "I thought, what with it being the Jubilee Year and the Olympics in London we would write to the Queen enclosing a couple of pictures of Pippa and Spiral to see if we could get some acknowledgment back for her to take and show to her school."
To prepare for each event Pippa said: "You have to brush him off, paint his feet, clean them out, brush his tail, plait him and make his mane tidy.
"You go in the ring and walk around and the judge calls you in, you do your show and then you get a rosette."