Cornish pilgrimage to Rame Head Chapel revived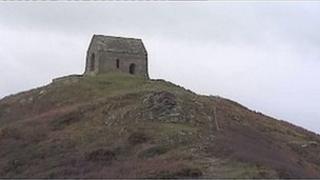 A pilgrimage to an isolated Cornish chapel has been revived after it was stopped five years ago.
About 35 people have walked from Rame's Church of St Germanus to the Rame Head Chapel in south east Cornwall.
The pilgrimage used to be an annual event for at least 20 years until 2007 when numbers dwindled, said church treasurer Ken Ryles.
Parishioners hope the pilgrimage to the chapel will once again become an annual event.
Mr Ryles said: "Sometimes you don't realise what you've got until it's gone.
"We always enjoyed taking part in the pilgrimage and we hope more people and young people will join us in the future."
The distance is just under one mile along a road and coastal path, he added.
Once they arrived a service was held at the chapel.