Falmouth Aquarium opens its doors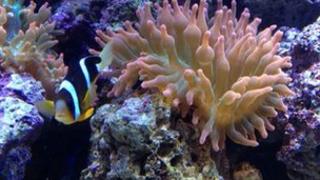 A new aquarium has opened in a former four-storey town house in Falmouth's town centre.
Falmouth Aquarium features tropical fish as well as native marine life.
The owners have secured exhibits from the Natural History Museum in Washington and are providing a lab for scientists from Falmouth's Marine School.
The aquarium will hold workshops, meetings and lectures for the public on marine conservation and education.
One of the attractions will be an X-ray exhibit, showing what sharks, eels, fish and other marine species look like on the inside.
The aquarium project has been led by scuba divers Johanna Naradzay and Barry Pope working with conservation groups.
Ms Naradzay said: "Falmouth has a lot going on and it has a really big maritime history but it really doesn't have a lot of tourist attractions that can attract them when it's raining."