Divers take part in Swanpool beach clean operation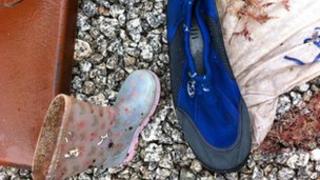 Divers from Cornwall have unearthed more than 12kg (26lbs) of rubbish during an underwater clean-up operation.
The exercise, which involved 13 divers at Swanpool beach near Falmouth, was the first of its kind in the area.
Among the items discovered was a T-shirt with the words "Laura will you marry me?" written on it.
Other rubbish recovered included eight carrier bags, a wellington boot and 17 golf balls.
Mark Milburn of Atlantic Scuba, which organised the clean-up dive, said: "It just came to me, rather than just organise a dive, give the divers a purpose and pick up some rubbish.
"We found a big sheet of aluminium, bent and mis-shapened. It may have been an old road sign, but it was covered in sharp edges, and would have caused accidents."
Mr Milburn said he was planning another beach clean dive in September in Falmouth.