Beached whale at Carlyon Bay dies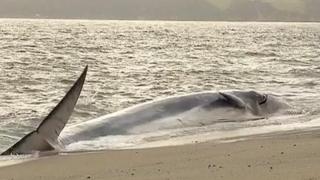 A whale has died after being washed up on a beach in Cornwall.
Rescuers were called to the scene in Carlyon Bay where the 65ft (20m) fin whale was reported stranded at 16:45 BST.
A crowd of about 300 people were at the scene, which was cordoned off to prevent further distress to the whale.
Vets from the British Divers Marine Life Rescue (BDMLR) said there was no hope of refloating the animal and it was too sick to be saved.
Faye Archell, of the BDMLR, said the "incredibly undernourished" mammal had a high breathing rate which suggested it was "very sick and distressed".
The whale, stranded on an outgoing tide, was also injured around one eye and there were reports of a gash on its underside.
She said: "It would be wrong for us to put a sick animal back into the sea. We are frustrated about it but we cannot help it."
Insp Dave Meredith, of Devon and Cornwall Police, tweeted: "The stranded whale has now passed away. Due to its injuries and poor condition there was no hope of rescue. A very sad incident for us all."
Coastguards said the animal was reported to them as thrashing about in the shallow water at the beach near St Austell.
Brixham Coastguard watch manager Paul Myers called it a "very distressing scene".
The fin whale, the second largest animal on the planet, is an endangered species.
The BDMLR is a voluntary network of trained experts who respond to calls by the public and emergency services when whales are stranded.