Dead fin whale removed from Carlyon Bay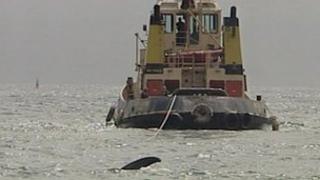 The carcass of a fin whale which died after being washed ashore in Cornwall has been moved off the beach.
Crowds of people watched the remains of the 65ft (20m) long whale get towed away by a tug boat at Carlyon Bay.
It washed up on Monday afternoon but died of natural causes later that evening.
A post mortem examination is expected to be carried out on Wednesday at a private location before the animal is taken away by road to be incinerated.
'Sad occasion'
Vets from the British Divers Marine Life Rescue (BDMLR) said there had been no hope of refloating the animal and it had been too sick to have been saved.
The fin whale, the second largest species on the planet, is categorised as endangered.
Dr Simon Ingram, a lecturer in marine conservation at the School of Marine Science and Engineering at Plymouth University, said: "It is a sad occasion to see an animal dyng on our beaches.
"But it could be a sign that it is a recovering population and there are other healthy animals living offshore."