Yachtsman rescued in high seas off Isles of Scilly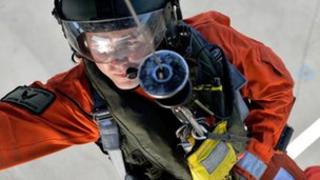 An injured French yachtsman has been rescued in 40ft-high (12m) waves in the Celtic Sea between the Republic of Ireland and the Isles of Scilly.
The crew of a rescue helicopter from Cornwall's RNAS Culdrose battled through gale-force winds to rescue the 22-year-old who had broken his ankle.
The aircraft winched him to safety on Wednesday night and he was taken to the Royal Cornwall Hospital in Truro.
He had been training for a forthcoming yacht race when he got into difficulty.
'Tricky rescue'
Winchman Cpl Justin Morgan, of RNAS Culdrose, said it had taken the crew an hour-and-a-half to locate the man because visibility was about 100m (109 yards).
"We lowered down a line to him which is designed to aid me to get on to the vessel," Cpl Morgan said.
"But once he got the line in his hand he opted to abandon ship and jumped into the water with it."
The man had been trying to fix his yacht which had suffered storm damage, about 70 miles off the Isles of Scilly, when he slipped and broke his ankle.
Cpl Morgan said: "I attached myself to the winch and I was lowered into the water. I hand-pulled him in while trying to battle the sea.
"After five or so minutes in the water I finally got him in my arms. It was a tricky rescue."