Digital X-ray equipment for Isles of Scilly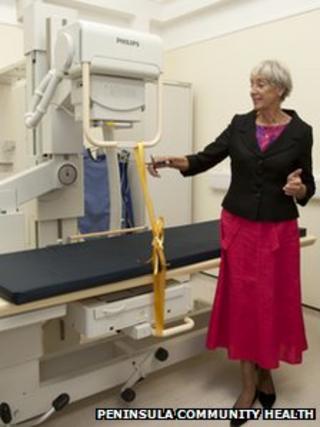 A digital X-ray machine has been installed in St Mary's Hospital on the Isles of Scilly.
The equipment means patients who need X-rays will no longer have to travel to the mainland.
Modern technology will allow digital images to be viewed instantly by consultant radiologists at the Royal Cornwall Hospital in Truro.
The Philips X-ray machine was installed by Peninsula Community Health (PCH), which runs St Mary's Hospital.
For the past 12 months islanders have had to travel to the Royal Cornwall Hospital for X-rays after the previous equipment was taken out of service.
The new machine was unveiled by Joan Mills, a former radiographer at St Mary's Hospital, who said in the 1970s X-rays had to be rushed to the airport on St Mary's then flown to the mainland for further examination.
The PCH said the equipment would mean an improved service for patients on the Isles of Scilly.