Olympic sailor Ainslie's gold medals boat Rita heads to Falmouth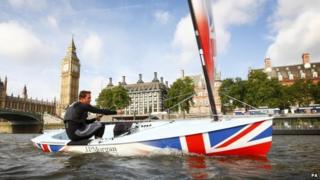 Sailor Ben Ainslie's boat Rita, which he has sailed to gold medals in the last three Olympics, is heading back to the Maritime Museum in Cornwall.
Rita's home, when she is away from Ainslie, 35, has been the museum in Falmouth.
And the faithful Finn dinghy will be back on show from Tuesday, along with Ainslie's gold medal winning Laser from the 2000 Sydney Olympics.
Rita was last seen on 16 August when Ainslie sailed her along the Thames.
'So proud'
His next sailing task will be skippering the crew of an America's Cup catamaran in California.
Ben Lumby, exhibitions manager at the Maritime Museum said: "We're here to celebrate the sea, boats and Cornwall and what better story to tell than that of Ben and Rita.
"We are so proud, and still a little hoarse from screaming at the TV. We streamed all the Olympic action on the water in our lecture theatre and there were times when I thought the roof was going to lift off - the passion of support was incredible.
"Having Rita back home completes Ben's Olympic gold medal winning story and we know our visitors will be delighted to see and touch his medal winning boats."
Ainslie, the most successful British Olympic sailor yet with four gold medals and one silver, sailed Rita to gold medals in Athens, Beijing and now Weymouth for the London 2012 Olympics.
Mr Lumby said: "Not many people know that Ben used the same Finn in all three recent Olympics.
"We do not know of any other actual boat that has won three consecutive golds as sailors prefer to have a new one if they can."