Truro Cathedral school set for revamp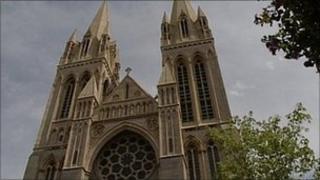 Work to restore Truro's former cathedral school is likely to begin early next year, say cathedral staff.
The school, which is next to the cathedral, closed in 1960, but it is now hoped it will become a major cultural centre for Cornwall.
The cathedral has raised £850,000 and hopes the remaining £500,000 will come from European funding.
It is part of the cathedral's Inspire Cornwall project to open up its spaces for the community.
Creative hub
The building, which was built in 1908, was used by the county council until about five years ago and since then it has been vacant.
The former cathedral school, which supplied choristers to the cathedral, moved to Kenwyn before it closed in the 1980s. Choristers are now supplied by Polwhele House Preparatory School in Truro.
Cathedral spokesman Colin Reid said: "We want to have a space which is a creative hub for a wide variety of activities, for rehearsals, workshops and lectures.
"We are all very excited to see this project nearly there.
"The next phase is to get planning permission sorted out and and we hope by the end of September we will be close to that.
"The most exciting thing is that it is about opening up cathedral spaces for people."