Looe fishermen support online fish auctions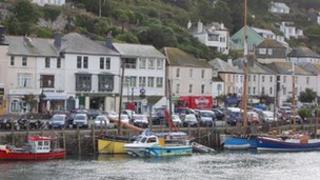 Online bidding for fish could secure the future of a Cornish market, local fishermen have said.
There are fears for the future of the fish market in Looe if it does not introduce measures to halt the decline in the fishing fleet.
Steve Farrar, a director of the Looe fish auction house, said setting up online auctions would cost £180,000.
He is looking into ways of securing grants for the idea.
According to the local fish market, the volume of landings is dropping.
'Lost mojo'
Apart from the handliners, netters and crabbers based in Looe, the number of small inshore trawlers has dropped from 30 to 10.
Angela Harrison, a partner in Pengelly's fishmongers, said: "If we have no market in Looe it will affect every business, every boatmen.
"Everyone needs to pull together, this is serious business."
Mike Pengelly, who has been fishing out of Looe for 45 years, said: "It has lost its mojo. If we don't do something we're going to lose even more boats. You can't afford to lose Looe market."
Auctioneer Steve Farrar said: "The online facility enables you to maximise the number of buyers who can buy on your market. It's as easy as that. It makes it easier for the buyers.
"Looe is a prime candidate to draw down that level of investment to maintain Looe as the town that it is."
The Looe Fishermen's Protection Association is supporting the idea of online fish auctions.
Chairman Dave Bond said: "I think it's imperative that the amount of boats we've got landing to this market doesn't go down anymore.
"Obviously they have got to attract the boats back from Mevagissey and Polperro to Looe market. Whether that will be possible remains to be seen."