Podiatry clinic cancellations prompt Peninsula trust apology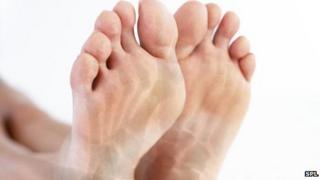 Health bosses have apologised to patients for cancelling 26 podiatry clinics in Cornwall.
About 140 patients requiring treatment on their feet and legs had appointments cancelled at short notice.
Peninsula Community Health (PCH) said "unexpected" staff sickness had forced it to suspend the clinics, although that had now been addressed.
But Diabetes UK said missing routine treatment could lead to complications which could result in amputations.
A podiatrist diagnoses and treats conditions which affect the foot, ankle and lower legs. These range from relatively minor conditions, such as corns and bunions, to serious issues such as ulcers and circulatory disorders.
'Human organisation'
"Sadly people with diabetes are at much greater risk of developing complications like foot ulcers, infections and nerve damage," Diabetes UK clinical adviser Zoe Harrison said.
"It's extremely serious and can lead to gangrene and amputations."
About 85% of the 125 amputations carried out in the UK every week were preventable with proper care and treatment, she added.
Steve Enoch, from PCH said, no-one in urgent need of care had been put at risk.
"Every single person on our list carries a recognised categorization - so we know the patients with long-term conditions and the seriously-ill patients," he said.
"None of these had their appointments cancelled."
Black toe
Keith Lewis, from St Day, criticised PCH's decision to cancel routine clinics.
The 68-year-old diabetic, who suffers from neuropathy (nerve damage), claimed these were vital and his check-up should not have been cancelled.
He has previously been treated for an ulcer on the back of his leg and has almost lost a toe.
"I spent a whole summer going to the health centre three times a week to get it dressed," Mr Lewis said.
"The toe turned black and I lost fragments of bone... but they managed to save it."
PCH said the circumstances surrounding its decision were unexpected and the contingency plans it had in place were not sufficient.
"We are a human organisation... and we had an absence over and above what we were able to cope with," Mr Enoch said.
He added that the staffing issue had now been addressed and patients could expect to receive new appointments within the next few days.