Cornish assembly is 'failed agenda', say Tory MPs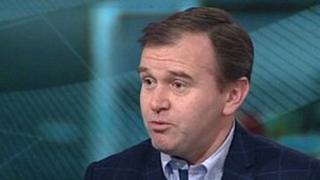 Plans for a Cornish assembly have been labelled as a "failed agenda" by two of the Duchy's Conservative MPs.
Sarah Newton, MP for Truro and Falmouth, and Camborne, Redruth and Hayle's George Eustice said the idea had "had its day".
The political party, Mebyon Kernow, has been campaigning for devolution for many years.
Its leader Dick Cole condemned the MPs' comments and said an assembly would offer "greater powers for Cornwall".
In an article in the Western Morning News the MPs said: "Rather than espousing the politics of victimhood and isolationism, our agenda must project Cornwall as a distinct, self-confident but outward-looking and enthusiastic part of the UK."
'Failed and defunct'
Mr Eustice added: "A Cornish assembly will be very costly, it means paying for more politicians and duplicating work that's already being done.
"This failed and defunct agenda of an assembly has really had its day, we need to focus on something that's much more forward thinking."
He said the government was pushing for local authorities to take more responsibility for services such as housing and transport and believed that was the way forward.
However, Mr Cole defended the campaign for an assembly.
He said: "They [assemblies] can improve funding, are able to make key decisions and set the priorities for their own areas."
In 2001, a petition with 50,000 signatures was presented to 10 Downing Street demanding a Cornish Assembly.
The party continues to campaign for self-government in Cornwall.
Mr Cole added: "I look forward to the day when Cornwall - as distinct, self-confident, outward-looking and enthusiastic part of the UK - has its own assembly."