Helicopter flights 'to stop' despite Tesco dropping heliport review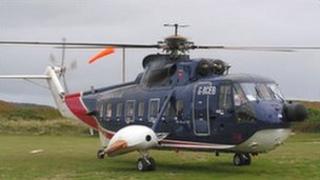 Helicopter flights to the Isles of Scilly from Cornwall will stop, despite Tesco dropping a legal challenge over the sale of a heliport in Penzance.
British International Helicopters (BIH) is selling its land to Sainsbury's.
Tesco had called for a judicial review into Cornwall Council's (CC) planning regulations. It said it dropped its appeal after assurances from CC.
BIH said the flights still had to stop as resultant delays meant it could not get money from the deal quickly enough.
The airline is selling its land to Sainsbury's and submitted a joint planning application, with the company, for a foodstore, park-and-ride and business units.
It said it planned to use the sale proceeds to buy new aircraft and bid for new business.
But Tesco and two private applicants applied for judicial reviews into Cornwall Council's planning regulations, putting a potential delay of up to two years on the development and stalling the transfer of money.
Michael Kissman, Tesco community director, said: "Our aim was simply to ensure that planning law was applied properly and there was a commitment that BIH would continue the helicopter service.
"We now have that commitment."
Cornwall Council said Tesco dropping its challenge was "very good news", but added there remained one application for a judicial review.
BIH chairman Peter Shawyer said: "Regrettably, not all legal challenges have been removed. BIH, therefore, have no alternative but to pursue another course of action.
"This course is to cease the passenger service from 1 November 2012."
Sainsbury's said it remained committed to developing the site.
The airline added that its 60 staff would be offered redundancy or relocation packages to its military and oil-based operations elsewhere in Cornwall and the Falkland Islands.
BIH's service, which has offered as many as 40 flights a day since starting in 1964, is thought to be used by about 130,000 people a year.
The company - which has its headquarters in Sherborne, Dorset - employs about 140 staff.
Its other work includes providing helicopter transport for the military in the Falkland Islands.