Nightlink helpline calls increase by 10,000 in 10 years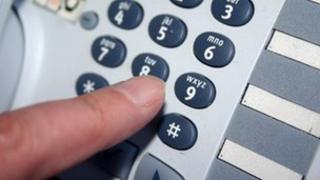 Calls to a helpline for people in Cornwall in emotional distress have soared over the last decade.
In 2001 Nightlink received 4,000 calls, but last year that figure had more than tripled to nearer 14,000.
The NHS-funded organisation supports callers with diagnosed mental health problems and people who have been bereaved.
Nightlink said the increase was down in part to more and more people struggling with financial problems.
Helen Davenport, a mental health telephone support worker, said: "The increase is primarily because of austerity.
"We get people on the verge of homelessness. They're so emotionally in turmoil so they can't think straight. We bounce off ideas with them. It helps people."
The service operates between 17:00 BST and 00:00 BST, and is available for anyone aged over 18 living in Cornwall.
It is appealing for more volunteers to help tackle the volume of calls.