St Ives parking spaces on sale for more than £50,000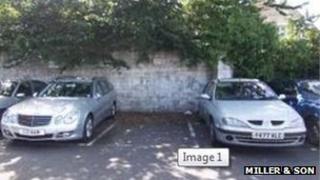 A parking space in a Cornish seaside resort could sell for £55,000 - more than twice the county's average salary.
The offer for the space in St Ives, where parking spots are at a premium, is being handled by Miller & Son.
Estate agents say there are so few places to park in the resort that people are prepared to pay large amounts for a town centre spot.
One said that as soon as a parking space went on the market it was usually a "dog fight" to buy it.
'Awash with money'
Five years ago an asking price of £24,000 for a parking space in the town made headlines.
Paul Le Bas, of estate agents Miller & Son, which has received the £55,000 offer for the space on Tregenna Hill, said: "Just put it on the internet, ring round everyone that you have on the list that is looking for parking and normally it's a dog fight after that.
"It's quite entertaining to do."
Jerry Harper, director of property developers Trelyon Estate Ltd which is expecting to get more than £50,000 for another space near the seafront, said buyers were usually second home owners.
"They do not want to spend hours driving around St Ives looking for a parking space and they want a guaranteed space available to them if they go out for the day," he said.
Councillor Colin Nicholls, deputy mayor of St Ives, said: "There's only a certain type of person that wants to pay all that, but it seems to me like a dinner party accessory.
"People are buying them to be able to say that because they are awash with money."