Serco changes 'causes Royal Cornwall Hospital A&E rise'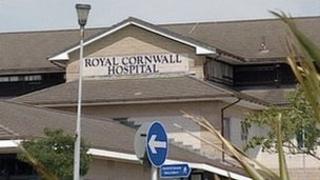 Changes to an out-of-hours doctors service from Serco have resulted in the increased use of a Truro hospital's emergency department, a report says.
The report, to the Royal Cornwall Hospital's (RCH) board, said the department was struggling in achieving a four-hour turnaround for 95% of patients in recent months as a result.
Serco was introducing a triage service, Cornwall's Primary Care Trust said.
There were problems with it, and it was working to sort them out, it added.
'Triaging patients'
The report, to be discussed by the RCH trust's board this week, said that since 17 May the accident and emergency department (A&E) had seen an average daily rise in attendance from 216 patients to 228.
In parts of May, June and July, only 90% turnarounds were under four hours, the report said.
Although it was only an extra 12 patients a day, it put further stresses on resources, it added.
Serco has provided an out-of-hours GP service in Cornwall since 2006 after being awarded the contract by the Cornwall Primary Care Trust (PCT).
Serco's introduction of the NHS's new Pathways system, which began in May, means people usually talk to a highly-trained nurse rather than a doctor.
The report said that patients worried by the change were more likely to go to A&E as they would prefer to talk to a doctor.
Bridget Sampson, director of primary care for Cornwall and the Isles of Scilly, said that Pathways was a "nationally recognised system for triaging patients" and its "introduction locally had created teething problems."
She added that the PCT had been working with the hospital to address concerns and it would "continue to monitor the position to stop the unnecessary use of the emergency service".
The Royal Cornwall Hospitals Trust said it was coming up with a "robust joint action plan" to address the issue.