Carlyon Bay fin whale stranding prompts guidance call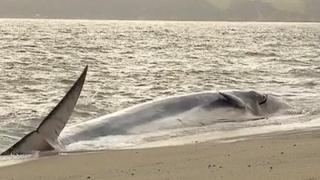 The death of a whale on a Cornish beach has prompted calls for changes in the way such matters are handled.
The 65ft (20m) fin whale became stranded at Carlyon Bay earlier this month but, despite attempts to save it, the animal later died.
The responsibility for removing and disposing of carcasses lie with the beach owner, which in the case of the fin whale was an estimated £30,000 bill.
According to figures from the Institute of Zoology's Cetacean Strandings Investigation Programme (CSIP), hundreds of whales, dolphins and porpoises become stranded around the UK every year.
CSIP spokesman Rob Deaville said landowners such as the National Trust and local authorities often had their own protocols to deal with strandings, but national guidance - perhaps online - could benefit smaller private beach owners.
Commercial Estates Group, which owns Carlyon Bay, said it was initially unaware of the correct procedures or which organisations is should contact.
"We were able to draw on local knowledge, which was incredibly helpful and enabled us to deal with the situation quickly and effectively," Jacky Swain, the Carlyon Bay site manager said.
"However, we would welcome the introduction of a nationwide protocol so in future any similar incidents can be dealt with as efficiently as possible."
Cornwall Council said it had a protocol in place to deal with such incidents on beaches it owned.
In a statement it said although it was not responsible for the Carlyon Bay stranding, when approached for assistance it provided - at no charge to the landowner - "the services of a dedicated and experienced officer to provide support and guidance and to liaise with all the statutory bodies".
Last year about 600 strandings were recorded compared with 400 in 2010, although CSIP said numbers could vary considerably from year to year.
Among the strandings in 2011, there were three fin whales - one in Devon, one in the Humber estuary and one in the Western Isles of Scotland.
With funding from the Department for Environment, Food and Rural Affairs (Defra), CSIP investigates how "man-made" issues, such as pollutants, ship strikes and getting caught up in nets, affect marine animals.
About 10% of the whales, dolphins and porpoises which strand are still alive and efforts are always made to refloat them.
If that is not possible and the animal dies naturally or has to be put to sleep, attempts are made to carry out a post-mortem examination.
"Learning is the primary driver and post-mortem tests tell us such a lot," Mr Deaville said.
"Not only can we discover any underlying issues, such as starvation or infection, but it offers us a unique opportunity to learn a huge amount about their diet, contaminants and population recovery."
CSIP is able to examine the stranded animals in many instances, but in the case of the Carlyon Bay fin whale the "logistics of recovery" meant a full post-mortem examination was not possible.
"It's disappointing and we haven't learned as much as we would've liked to, but every experience helps to build up a network of contacts and a body of knowledge," Mr Deaville said.
Although the exact cause of the Carlyon Bay fin whale's death may never be known, some basic samples of skin and blubber were taken which should help CSIP with other studies of the species.
After the samples were taken, the Carlyon Bay whale was incinerated by a waste disposal company.