Ivybridge paper mill to close with 100 jobs lost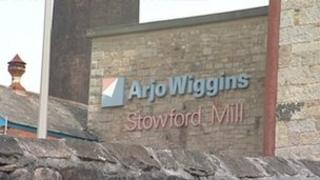 A south Devon paper mill is to close with the loss of almost 100 jobs.
Arjowiggins, which owns the Stowford Mill at Ivbybridge, said the decline in European sales meant it was having to transfer operations to Scotland.
Closure of the mill in 2014 will end 150 years of paper production in Ivybridge.
Managers at the plant, which makes printing and writing paper, said some staff may be transferred to the Stoneywood Mill in Aberdeen.
The firm said in a statement: "The continuing decline in the European market for printing and writing papers has led to manufacturing over capacity.
"As a result, Arjowiggins regret to announce a proposal to transfer production of security and fine papers from their Stowford Mill in Ivybridge, mainly to their Stoneywood Mill."
Consultations with employee representatives will be taking place during the coming weeks.
The firm added: "The proposal is in no way related to the performance of Stowford Mill and its employees.
"It is a credit to the commitment of employees who have worked hard to keep the Mill operational during the last decade or so, during which many similar small, long-established paper mills have closed."
The Grade II listed paper mill was built on the site of a former woollen mill in 1862.