Council reveals wind turbine plans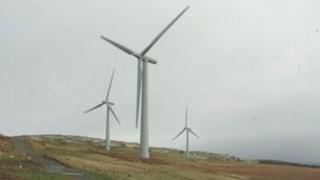 A £16m plan to build a network of wind turbines on council-owned farms has been announced.
Ten farms in Cornwall have been earmarked as sites to house the turbines, which Cornwall Council said would cut its carbon footprint.
Opponents of wind energy say there are already too many turbines in the county.
The council said the scheme would break even within four years and raise £5m to pay for some of its services.
Cornwall Council owns about 100 farms. Areas that have been suggested to house the turbines include Probus, St Austell and Helston.
One of the council's tenant farmers, Chris Cardell, who is also the vice chairman of the Cornwall branch of the National Farmer's Union, said: "There is a benefit to the tenant farmers here.
"We're now approached by our suppliers as to what our carbon footprint is, so if we can reduce it that's good."
A spokesman for the council said its annual electricity bill was £6m, and it was "very keen to do something that offsets that cost and generates energy locally that could be used by the council".
Opponents say that Cornwall has more than 90 wind turbines and they fear more would affect the county's tourism trade.
Alan Nunn, from the Realistic Energy Forum South West, said: "They have to take a lesson from Denmark and northern Germany where they did the same thing for many years, and they have lost 40-50% of their tourism.
"We cannot afford to go down these lines."