Cornwall crash van 'heading wrong way' probe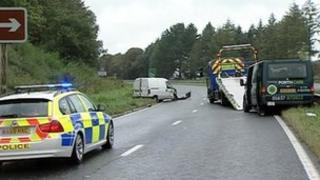 One of two vans which collided head-on on the A38 in Cornwall could have been heading the wrong way, say police.
Emergency services were called to the dual carriageway at Menheniot near Liskeard shortly before 05:40 BST.
A Ford Transit and a Fiat van had collided on the west-bound carriageway.
Insp Andy Oliver said: "Police are investigating whether one of the vehicles was in fact on the wrong side of the road when they were involved in a head-on collision with the other."
He said four people were involved in the crash, with two being taken to Derriford Hospital in Plymouth with serious injuries, including to the chest and leg.
The carriageway, towards west Cornwall, has been reopened.
Anyone with information about the crash is asked to contact police.