WWII parachute mine in Helford River to be detonated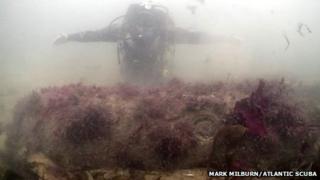 A parachute mine found in a river near Falmouth is expected to be detonated on Saturday.
A Royal Navy Bomb Disposal Unit said the device, which contains more than 700kg (1,540lb) of explosives, is one of the biggest found in South West England.
A member of a group of local scuba divers found the World War II device at the mouth of the Helford River.
A spokesman from the unit said a one mile exclusion zone would be set up.
He said part of the Helford River would also be closed during the detonation.