Warrens Bakery in St Just asks staff to take pay cut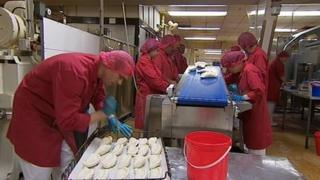 A Cornish bakery has asked 31 members of staff to take a 10% pay cut to help "safeguard jobs".
Warrens, which is based in St Just in West Cornwall, has closed five stores and one wholesale unit and made 12 people redundant since March.
It has asked the 31 highest paid staff to take a 10% pay cut for six months.
The family-run business has also brought in a new chairman to restructure the firm from sole ownership to a limited company.
'Tight cash flow'
Some employees, who wanted to remain anonymous, said it could mean a pay cut of £50 per week for some of the staff.
New chairman Mark Sullivan, from the firm Cornish Sea Salt, said the business had had a "turbulent couple of years".
He said he was looking at the whole firm at where savings could be made.
"Things are tight in terms of cash flow and we are taking steps to mitigate that.
"We are not going to be restructuring and taking those jobs out, we are saying work with us for a few months and we will safeguard jobs."
Mr Sullivan added that competition from rival companies had affected the business.
He added the pay cut was "only for six months" and the business was "happy to pay back" the money after the period.
Warrens started more than 150 years ago in St Just and now employees 440 people in shops and bakeries across the south west of England.