St Ives parking spaces are £50,000 each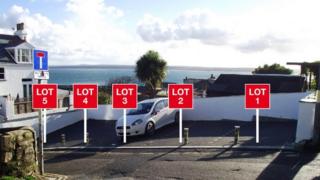 Five car parking spaces have gone on sale in a Cornish resort for £50,000 each.
The guide price of each space at Barnoon Terrace in St Ives, comes three months after another space was bought for £55,000.
The price of the spaces, about 30 seconds walk from the town centre, is more than twice the average wage of about £22,000 in Cornwall.
A senior town councillor said: "It sticks in the throat of local people."
Andrew Mitchell chairman of the resources committee, said: "It shows the mismatch in St Ives and many other Cornish villages and towns between the local population on low wages and seasonal jobs and second home owners.
£100,000 offer
"It's ridiculous that many of those that live here can't afford a home. They can't even afford one of these parking spaces."
Sam Peters, of estate agent Bradleys, said that it had already had an offer of £100,000 for two of the spaces, but had declined the offer to wait for the auction.
He said: "We have got about 60 people who are interested.
"There is simply not enough parking capacity in the town for the number of people that are here.
"And there are plenty of people prepared to pay these kind of prices."
The spaces were created from a former site of a garage and garden.
The town council objected to the change, which included the loss of a hedge, but was overturned by Cornwall Council.
Mr Peters expected the buyers to be second home owners.
"If a house has a parking space in St Ives the values shoots up, so the spaces will pay for themselves."