Mevagissey fisherman Ian Thomas death: Lifejacket plea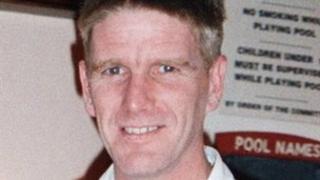 A man who died when a boat capsized may have survived had he been wearing a lifejacket, the Marine Accident Investigation Branch (MAIB) has said.
Ian Thomas, 50, from Mevagissey, Cornwall, died when the Heather Anne capsized in December 2011.
The MAIB said: "The deceased would have had a greater chance of survival had he been wearing a lifejacket."
It urged the Maritime and Coastguard Agency (MCA) to consider making lifejackets compulsory for fishermen.
'Difficult' conditions
The MAIB said neither the skipper nor Mr Thomas had been wearing lifejackets when the Heather Anne rolled and capsized.
The two men were rescued by the skipper of another boat who noticed the Heather Anne's radar and lights dip.
He pulled the skipper from the water and an unconscious Mr Thomas who was later pronounced dead at the Royal Cornwall Hospital.
In the report the MAIB said: "Neither of the men was wearing a lifejacket, and it would have been difficult for even the best of swimmers to cope in the sea and wind conditions experienced.
"Given the relatively small length of time Ian spent in the water, there is little doubt that his chances of survival would have been dramatically increased if he had been wearing one of the lifejackets carried on board."
'Not a strong swimmer'
It added that had the other skipper not investigated "the resultant time delay would have meant that Heather Anne's skipper might also have perished".
The MAIB said 63 fisherman had died on vessels similar to the Heather Anne between 1992 and 2006, 34 of which were known not to have worn lifejackets.
It said the MCA brought up the issue in 2010 but it had remained a "standing agenda item" and needed to be addressed.
The MCA said it worked with the Fishing Industry Safety Group to "nurture a culture shift" which would see the wearing lifebelts become normal practice.
The report also concluded that the vessel was carrying 10.5 tonnes of fish, twice the weight it was designed for.
Mr Thomas had worked as a fisherman for about 35 years and had completed all mandatory Seafish training courses except sea survival, but he was "not a strong swimmer", the MAIB added.