Campaign for Marriage leaflet uses MP Sarah Newton photo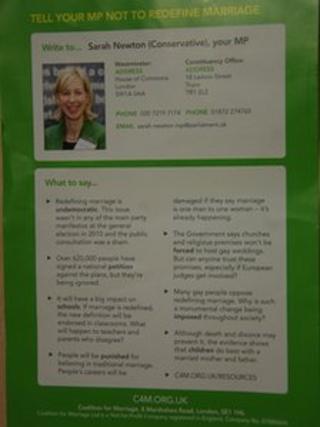 A group campaigning against same-sex marriage has used a Cornish MP's photograph on its publicity leaflet without her permission.
The Coalition for Marriage handed out the leaflets in Camborne, Liskeard and Truro urging people to object to government plans to redefine marriage.
Sarah Newton, the Conservative MP for Truro and Falmouth, said it wrongly implied she supported the group.
The Coalition for Marriage has been unavailable to comment.
'Distressed' constituents
Ms Newton said she was angry at the misrepresentation and intended to seek legal advice.
"A lot of constituents have contacted me really distressed because of some of the language in the leaflet," she said.
"And because my photograph is there, they believe that I'm endorsing these opinions and I'm absolutely supporting their campaign - which of course I'm not."
The MP said her contact with the Coalition for Marriage had been to invite it to provide a speaker for a debate.
In December, Prime Minister David Cameron said he wanted churches in England and Wales to be part of the government plans to allow same-sex marriage.