Stephen Coukham jailed for killing baby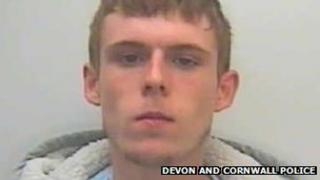 A father who "lost his temper" with his three-month-old baby has been jailed for causing his death.
Stephen Coukham, 21, of Hendra Road, Truro, denied murdering his son Tyrone, but later admitted he was responsible for the death in July 2010.
Medics said the baby suffered an "unsurvivable head injury".
Coukham was jailed for three years and eight months at Truro Crown Court after his plea of manslaughter was accepted by the Crown Prosecution Service.
Sentencing, Mrs Justice Sharp said: "The precise sequence of events that led to Tyrone's death will never be known. But you lost your temper because he was crying or wouldn't stop crying.
"Then in a fit of temper you shook him hard, or threw him down on a soft surface - actions that were likely to cause him harm."
'Terrible injuries'
Coukham, then 18, was living with his partner - the baby's mother, Kerry Marriott - at a flat in Truro when he took Tyrone into the bedroom to change him.
Minutes later, he raised the alarm when the baby stopped breathing.
Tyrone died later that day in hospital.
Medics said shaking was the most likely cause of death, but also said there were other internal injuries which may have been caused before the day Tyrone died.
Det Sgt Andy Warne, investigating officer, said: "This was a violent act committed against a defenceless ten-week-old baby who sustained terrible injuries at the hands of the very person who should have been caring for him.
"This conviction follows a sensitive and thorough two-year police investigation involving officers from our major crime and child abuse teams."