'Cramped' Dowling family in Nanstallon housing plea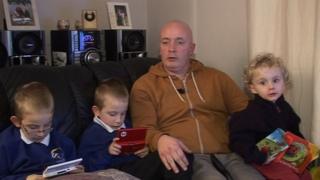 A family of 10 living in a three-bedroom house in Cornwall have criticised the council for refusing to give them a bigger house.
Andrew and Susan Dowling live in the council-owned property in Nanstallon near Bodmin with their eight children aged from seven months to 17.
They claim to have been denied larger accommodation because they have too many children.
Cornwall Housing said houses were allocated to those most in need.
In a statement it said the demand for social housing was greater than supply in Cornwall, adding that there was also a particular shortage of homes for larger families in the area.
'Blunt and honest'
The Dowlings said living in such crowded conditions is adversely affecting the family's life.
Mrs Dowling is a full-time mother, while Mr Dowling is a seasonal hotel worker.
"The house is so cramped - especially when everyone's moving around and getting under each other's feet," Mr Dowling said.
"We need re-housing and we've asked the council to help us, but we've been told they're not going to help us because we've got too many children.
"We chose to have a big family, but we shouldn't be penalised housing-wise for having a big family."
But Mark Kaczmarek from Cornwall Council defended its decision.
"Sometimes you're better off being blunt and honest with people," he said.
"There are too many people to house. The option we have as a council is finding a semi-detached house and knocking it into one.
"We just haven't got that amount of housing stock available to do this."
Mrs Dowling said not having the space for the children to go off on their own to "de-stress" can lead to family arguments.
"It's horrible to see the siblings fighting and arguing - it shouldn't be like that," she said.
In order to maximise the current space, the Dowlings have converted the dining room into a fourth bedroom, which means meals have to be eaten on laps, chairs or on the floor.