Body found after St Breward bungalow blaze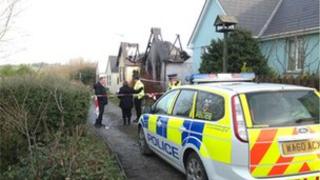 A body has been found after a bungalow fire in Cornwall.
Fire crews and police had been searching for the male occupant, who has been missing since the fire in St Breward on Friday evening.
Neighbours said the man, in his 50s, had not made contact since the fire. His mother was taken to hospital suffering from shock.
Police and the fire service are conducting a joint investigation into how the fire started.
The bungalow is being treated as a crime scene.
More than 30 firefighters were involved in tackling the blaze at two adjoining bungalows near Bodmin at about 18:40 GMT.
Cornwall Fire and Rescue Service incident commander Guy Herrington said: "We're treating this as a scene of crime and have handed the incident to the police."
Residents in the other property involved in the fire have been relocated to alternative accommodation.
Dave Lupton, who lives nearby, said: "He's a 50-odd-year-old man who lives on his own, we hope he's out in the town somewhere, but we don't know of his whereabouts at this present time.
"His mother lives very close by, she's unwell and has been taken away in the ambulance because of shock."
Devon and Cornwall Police said the area had been cordoned off while investigations continued.