Rare Truro blue marked letter found in Exeter archive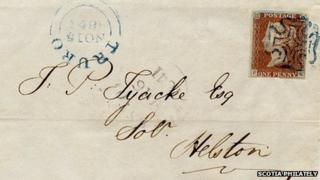 A letter, with a date stamped in blue ink in Truro about 170 years ago has been discovered in an Exeter archive.
The letter, addressed to a Helston solicitor, has been valued at £3,500 because of the unusual stamping colour.
From 1819 to 1843, Truro's postmistress was a Miss Thomas, who preferred the use of blue ink instead of the normal black stamping.
An envelope bearing a penny red with the usual black date stamp would only be worth about £5.
'Genuinely rare'
Colin Harding, from Scotia Philately, in Surrey, who valued the letter, said: "We were amazed at this find.
"However if it had been a penny black with the blue marking it would be worth between £10,000-£15,000."
The letter, which was addressed to solicitor TP Tyacke, was discovered in his family's archives.
Mr Harding said: "The blue makes all the difference. Truro was quite a special place in postal history. The earliest letters go back to 1710."
He said Miss Thomas's last name appears in the post office records but her first name is not recorded.
"It was terribly strict in those days, and the post office insisted on black ink," he said. "The fact this lady decided to use blue, she must have been a bit unusual. She just liked the blue ink."
Mr Harding said such findings are "genuinely rare and very collectible."
The content of the letter itself is not rare as it discusses income from tin mining stocks, at a time when the industry was still a driving force in Cornwall.