Heamoor Primary School teachers strike over workload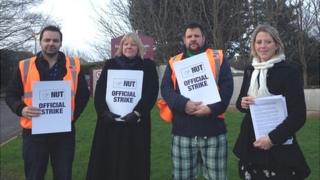 Teachers at a Cornish primary school have started a seven-day strike in a dispute over their workload, pay and conditions.
Six out of the seven staff at Heamoor Primary School near Penzance walked out in a dispute by the National Union of Teachers (NUT).
More than 120 of the school's 208 pupils have been able to attend as normal said Cornwall Council.
The authority said it was "extremely disappointed" by the strike.
'Aggressive' approach
NUT representative Hannah Packman said: "We've attempted to enter talks for some time now.
"They are professional teachers and they want the best for the children and we are very reluctantly taking this action.
"We hope to resolve it before further action next week."
Cornwall Council said in a statement that it and the governors had met with the union on "numerous occasions" over the past few months and had offered to continue to do so.
But it could not agree to demands for staff having what it claimed was a "veto on how the school is run" and for staff to agree with the head prior to visits to classrooms by the head and governors.
It said: "Heamoor School is working within the guidance provided by the Department for Education and by the authority and is operating in exactly the same way as every other school in Cornwall.
"Unfortunately the NUT members at the school have decided to take an aggressive and wholly unhelpful approach to the discussions, preferring to make 'non negotiable' demands rather than entering into meaningful discussions."