Donkey's new life after last minute online appeal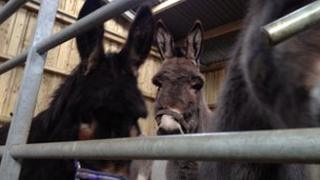 An animal sanctuary in Cornwall said has rescued a donkey after an emergency online appeal for funds.
The Flicka Foundation, near Mabe, paid £700 to the owner of a fairground in another part of the UK after they were contacted about Merlin the donkey.
The foundation, which was set up in 1995, is caring for 32 horses and ponies and 37 donkeys.
Laurie Stephenson, from Flicka, said Merlin "deserves to live the rest of its life, in peace and free from pain".
'Full to bursting'
Merlin, who is 20, was purchased following donations from people in Cornwall.
"We can't say exactly where he's come from, but we just wanted to get him away from the situation he was in. He's come from a background where unfortunately he's been badly treated. Hope he will have a loving home with all the other donkeys.
"We put an appeal out and people have been wonderful raising money. We raised £500 because we did have to clinch a deal."
The centre hopes that Merlin will become a popular member of the stables with visiting children.
Ms Stephenson said: "He is such a friendly donkey. We hope that children with special needs will be able to have close contact with this donkey."
She added that the centre was "full to bursting with every single stable full".
"Every sanctuary is saying the same. Unless it is really strictly a cruelty case, we can't take any more at the moment. We just do what we can. We really felt Merlin needed to be taken on."
A spokesman for the foundation said: "The biggest heartfelt thanks to everyone who donated and sent their good wishes - thank you so much for helping us get Merlin here."