Cornwall Council warn over coastline landslips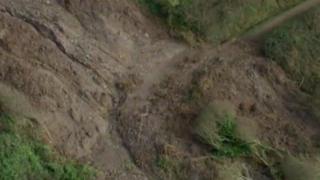 More than 35 "significant" cliff falls have occurred along Cornwall's coastline since November, the council has revealed.
The authority has warned beach and cliff users to take extra care.
A spokesperson said the advice followed an unprecedented period of wet weather which had resulted in the cliff falls, many of which were on the south coast.
Along the South West Coast Path in Cornwall, 18 routes are currently closed because of the falls.
Richard Hocking, the council's soils and materials engineer, said: "In some areas we have witnessed catastrophic collapses whilst in others the whole cliff line has merely slumped".
The authority said repairs would begin in the next few weeks, but at this stage it was unclear how much they would cost.
David Attwell, the authority's principal countryside officer, said: "Council staff can't recall a more challenging time for the management of beaches or footpath network across Cornwall."