Serco 'shortage of calls staff' says CQC report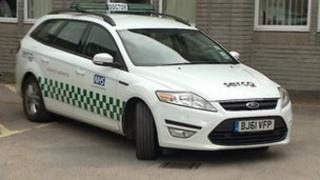 A report into Cornwall's out of hours doctors service has found it does not have enough staff answering calls.
A report into Serco's GPs contract by the Care Quality Commission (CQC) says action is needed.
But Serco met four out of five standards assessed, compared with only one in a report last year which said there was a shortage of GPs and nurses.
Serco welcomed the report, saying it had worked "extremely hard" to improve its service.
Job 'stressful'
The CQC said in its report that some Truro call centre staff, called Health Care Advisors, said they felt "under pressure".
They also said the job was "stressful" and "there are not enough of us".
The CQC said that during November only 75.3% of calls were answered within 60 seconds of the end of the recorded introductory message.
The National Quality Requirements for full compliance is 95%.
Mary Cridge, head of regional compliance for the CQC, said: "Serco has certainly recruited more doctors and nurses.
"This time the shortage was among staff who take calls in the call centre.
"There need to be a few more of those because it's impacting on the time it takes to answer calls and to deal with those calls once they are received."
Serco 'pleased'
She said the CQC had asked Serco for a report by 27 February on how it will deal with the shortage of staff and the CQC would be going back to check on progress.
Serco, which has run the service since 2006, has a team of more than 180 doctors, 50 other clinicians and about 140 support staff.
Dr Louis Warren, who manages the service, said: "I am really pleased that their inspection report reflects the improvement that we have made over the past months.
"All our team in Truro have worked extremely hard to achieve this progress and I have complete confidence that we have everything needed to provide a high quality service for patients in Cornwall in 2013."