Newquay bred Owston's civets flown to Vietnam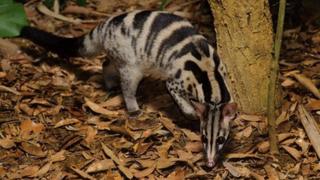 Two cat-like mammals from Vietnam, successfully bred at a north Cornwall zoo, are to be flown back to their native country.
The Owston's civet is an endangered species found in the forests of Vietnam, Laos and southern China.
Newquay Zoo have bred the mammals since 2004 providing an 'insurance population' for the declining numbers.
It is hoped any future offspring fathered by the two males will be able to be released back into the wild.
The Owston's civets were originally moved to UK zoos as part of an international agreement with Cuc Phuong National Park that sees them held in trust for the people of Vietnam.
Carl Lamb, marketing manager at Newquay Zoo said: "The species has not been seen in the wild for more than three years and there are only 17 in captivity worldwide and six of those are here."
'Hunted illegally'
The species are listed on the International Union for Conservation of Nature (IUCN) Red List - a comprehensive source of information on the status of wild species facing a high risk of global extinction - as being 'vulnerable'.
The animals are hunted illegally for the fur trade and are also killed for meat.
According to the IUCN the species has a "very real chance of becoming extinct within the next 100 years".
Animal Collection Manager John Meek said; ''Careful management of the small population here in Newquay has meant that the time has come to return two animals to their native home."
The mammals will now be flown back to Vietnam as part of its own breeding programme to protect the species.
Stewart Muir, Newquay Zoo Director said: "International partnerships such as this are helping to save endangered species for future generations."