South West Water tree felling leads to sewage smell complaints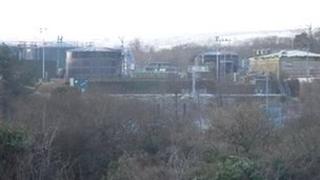 A decision by South West Water (SWW) to remove a number of trees surrounding a west Cornwall sewage plant has angered people living nearby.
SWW said the leylandii trees at Hayle Sewage Treatment Works had to be felled after being damaged by huge numbers of roosting starlings.
People living near the plant said the trees blocked the "eyesore" and also filtered the "horrendous smell".
Resident Mike Matthews said SWW had "totally devastated our lives".
Mr Matthews said the starlings explanation was "absolute rubbish".
'Blinding lights'
"If everybody cut trees down because starlings came in, we wouldn't have any trees left in the country," he said.
"What we've got here now is a total eyesore.
"The trees over the last few years have filtered the horrendous smell we've been getting."
Malcolm Hamblin, whose garden overlooks the plant, said the trees also played a vital role in shielding the "blinding" lights from the plant which were used at night.
He said the "dense foliage" also helped to block out the noise from the lorries used at the works.
In a statement, SWW said a "large number of starlings damaged the trees to such an extent that they were no longer safe to leave as they were after several large branches fell on to equipment at the site".
SWW said it did not want to risk this happening to anyone working there and so the decision had been taken "reluctantly" to fell the trees.
The statement said workers on the site would be asked to make sure lights were turned off at night and "where this is not possible to redirect the lights so they are not pointing towards nearby properties".
SWW declined to be interviewed but said it would be planting new trees over the next few weeks.