Man arrested in Newquay cannabis raid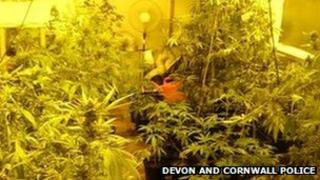 A 48-year-old man has been arrested after more than 200 cannabis plants were seized by police from a house in north Cornwall.
Devon and Cornwall police found 247 plants when they searched the property on Henver Road, Newquay on Thursday.
A substantial amount of propagation equipment used in the cultivation of plants was also discovered.
Insp Dave Meredith, of Devon and Cornwall police, described the seizure as an "excellent result".
"The prompt actions of the police in making this seizure have prevented a large amount of controlled drugs entering supply networks, with the obvious serious impact on the health of users," he said.