Looe and Hessenford businesses miss out on flood defence cash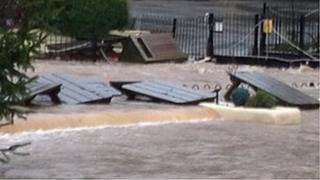 Business owners in Cornwall affected by recent flooding have said they are disappointed they will miss out on money for flood defence schemes.
The government awarded £3.74m to the Devon and Cornwall Flood Recovery 2012 scheme which will help 355 properties.
But people in places including Looe, affected by the November and December's floods, will miss out because Cornwall Council applied for money in June.
The £3.74m has been shared been the council and the Environment Agency.
'Limited pit'
Cornwall Council said some areas missed out because when the application was made they had not been affected by flooding.
It said their problem would be "addressed in the future".
Michelle Sadler, from the Old Sail Loft Restaurant in Looe, said: "We do need to have some sort of support down here and there's a lot of other areas very locally and other businesses and homes that have suffered.
"There are people out there who do need a lot of help and I think they need to reconsider [where the money is spent]."
In Hessenford the Copley Arms was flooded in December.
Manager Becky Winn said: "It [the money] needs to be spread out better or more coming down our way. I think we need to re-look at the figures and spread it out."
Dave Owens from the council said: "Last June we hadn't had the flood problems that we got in November and December, we just didn't have that crystal ball.
"We're still dealing with some problems as well from 2010 so it's basically spending a limited [amount] and making it go as far as possible."
Redruth Brewery, which was also recently flooded, will benefit from a separate £3m as it is due to house Cornwall's Records and Archives Office.
In total the government allocated £294m for 93 flood defence projects and the maintenance of existing schemes.