Cornwall project to tackle child obesity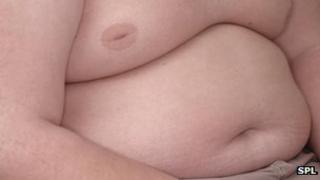 Childhood obesity throughout Cornwall and the Isles of Scilly will be targeted through a £100,000 initiative.
The Cornwall Hearty Lives Project said people living in the poorest areas on average die years younger than those from the richest neighbourhoods.
It is funded by the British Heart Foundation (BHF) and the money will be used to target areas where child obesity rates are highest.
The BHF is working in partnership with the NHS services and Cornwall Council.
The initiative will include workshops for parents, health days and a BHF scheme which teaches people what to do in a life-threatening situation.
'Poor lifestyle'
The NHS said one in three children in England leave primary school overweight.
Dr Kerry Bailey, of NHS Cornwall and Isles of Scilly, said: "An unhealthy weight at a young age can very quickly lead to serious health problems and affect how long we will live for.
"We are all guilty of making poor lifestyle choices but the key is to recognise them and try to ensure a healthy balance between what we like and what we know is good for us."
Shirley Hall, the BHF's head of development, said: "It's already been suggested that this generation of children may not live longer than their parents due to the implications of their lifestyle."