Porthtowan's growing sand dunes concern locals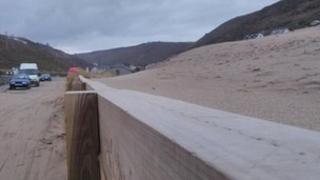 Sand dunes in a Cornish village need urgent management to protect properties from sand blown in by high winds, residents have warned.
Residents from Porthtowan are meeting with Cornwall Council next week to discuss attempts to contain the sand.
Villagers said high winds resulted in sand being blown across the road and hampering local shop owners from getting to their properties.
The councillor for the area Joyce Duffin said the problem was widespread.
'Sand accumulating'
The council said its measures to protect the area were not working and they wanted guidance on what to do next.
Jack O'Shea from the Porthtowan Dunes Group said: "We have a very low beach in the valley, so the sand has always blown up through.
"We've had several years of the sand accumulating at the front of the dunes."
The council has attempted to manage the dunes in the past by putting up fencing and pathways.
Mrs Duffin said: "There are problems all along the north coast. The problem with the sand dunes here is on a much greater scale.
"On New Year's Day a lot of the sand had been blown back and there was a lot of debris left with old fences and old wires."