Tributes paid to Fisherman's Friends' Trevor Grills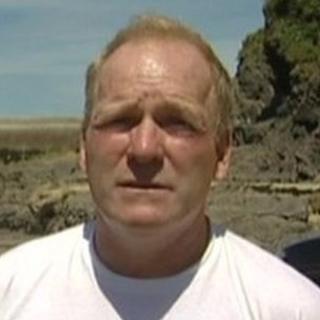 A singer who died after an accident at a music venue has been described as a "real Cornish gentleman".
Fisherman's Friends singer Trevor Grills, 54, died overnight after he suffered critical injuries from being hit by a falling metal door at G Live in Guildford, Surrey, on Saturday.
Fisherman's Friends singer Jon Cleave said: "Our deepest love and thoughts are with Trevor's family.
"We would like to sincerely thank everyone for their messages of love and support.
"We know that Trevor, who was a proud yet modest Cornishman, would be quite overwhelmed by it all."
Family friend David Phelps said the village of Port Isaac, where the band is from, was stunned.
"The village will come together, it will get over it, but one thing, they will never forget it.
"All you can think about is Trevor's wife and family," he said.
Ian Brown, manager of Fisherman's Friends, has described Mr Grills as "a lovely man".
John Warren, organiser of Falmouth's Sea Shanty Festival, said: "We're a close-knit community and this year is the 10th anniversary of the festival and Fisherman's Friends have supported us from year one.
"Trevor was the communications guy for the group and was a real Cornish gentleman."
Mr Warren added it was a "huge set back" and it "was a sad day for Cornwall".
'Someone special'
Fans have paid tribute to Mr Grills, one of the younger members of the Fisherman's Friends.
Writing on the group's Facebook page, Sarah Lee said: "Words seem pointless, but apart from sending you all love there's not much else we can offer.
"Know that you are in our hearts at this terribly sad time."
Fellow fan Charlie Mason said: "Such sad news - we saw you all in Cheltenham on Thursday, and loved it - Trevor bought joy to people - a gift few of us have. We've lost someone special."
Steph Woodhouse said: "Our thoughts are with his family, friends and all the village that has welcomed us so warmly over the years. Thinking of Port Isaac."
BBC Radio 2 broadcaster Jeremy Vine tweeted: "So sad. Sending love to the Fisherman's Friends after this terrible blow."
Tour manager Paul McMullen, 44, from Disley in Cheshire, also died in the incident.
On Sunday, a spokesman for band Said The Maiden, which has worked with the Cornish singers, said Mr McMullen was an "amazing man, who gave us a fabulous opportunity to sing for the Fisherman's Friends".
He said: "We feel honoured and grateful to have been able to work with him. Our thoughts and prayers are with his family and the guys tonight."
The Cambridge Folk Festival, where the band has performed, tweeted: "Our thoughts go out to Fisherman's Friends. Rest in peace Trevor Grills and Paul McMullen."
At Cornwall Council, a minute's silence was held in the chamber for Mr Grills and Mr McMullen.
The Fisherman's Friends were given a £1m recording contract after being discovered by music industry bosses during a pub concert.
In 2010, the band received a gold disc after they sold more than 100,000 albums.
They have since performed at the Glastonbury Festival.
Ealing Studios is working on developing a film charting the rise of the a cappella group.