Cornwall Council names Paul Masters as interim chief executive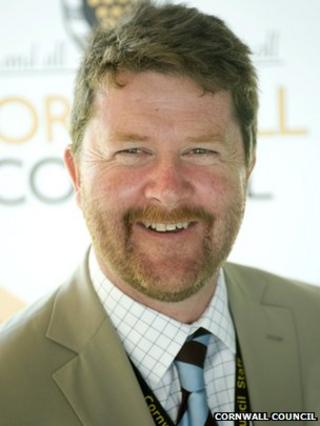 Paul Masters has been announced as the new interim chief executive at Cornwall Council.
Mr Masters, who is currently the assistant chief executive, has been working in local government in Cornwall for 32 years.
He will take up his new role on the departure of Kevin Lavery, for a minimum of six months.
Mr Lavery is moving to New Zealand to become the chief executive of Wellington City Council.
Mr Masters was appointed head of policy for Cornwall Council in 2008, becoming the assistant chief executive in 2009.
Mr Masters said: "I am extremely proud of the fact that I have spent my whole career working in local government in Cornwall and will seek to do the very best I can for the council and for Cornwall."
The salary level for the post is between £158,000 and £175,000.
Jim Currie, the leader of the Conservative-Independent authority, said: "The next six months will be a very challenging time for the authority, with the election of a new council which will have to deal with the impact of further cuts in government funding.
"Paul's long experience in local government in Cornwall and his ability to work with all kinds of groups and individuals and manage difficult situations calmly and sensitively makes him the ideal person for the job."
Mr Lavery had been in charge at Cornwall Council since 2008, before it became a unitary authority.