Millions invested in training at RAF St Mawgan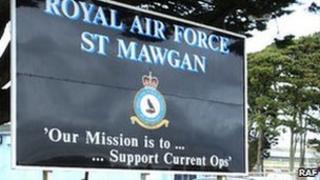 An RAF Station in Cornwall which is celebrating its 70th anniversary will receive a £9m facelift.
Local residents had feared RAF St Mawgan was being run down after it failed to win the new Joint Combat Aircraft in 2005.
The money will be used to create a new survival training centre which will open in July 2013.
The base houses 2,000 soldiers of the Headquarters of the Nato Allied Rapid Reaction Corps for part of the year.
'A proud history'
In its heyday the north Cornwall facility, with one of the longest runways in the UK, was a thriving base.
After the RAF regiment moved out, followed by search and rescue training, the site was mothballed in 2009.
However in 2011 it was announced RAF St Mawgan would remain open for at least 25 years as a training base.
An RAF spokesman said the multi-million pound investment further secured "its long term survival".
Wing Commander Philip Lamb, who took command of RAF St Mawgan in July 2012, said "Command is a privilege and command of a Royal Air Force Station even more so.
"RAF St Mawgan has a proud history and an exciting future, not least in continuing to contribute as the only RAF Station in south-west of England by supporting ongoing operations."
Originally opened as a civilian airfield in 1933, it was requisitioned at the outbreak of World War II and named RAF Trebelzue.
It was expanded with twin concrete runways and renamed RAF St. Mawgan in February 1943.
The RAF station will be celebrating its birthday with a series of public events later this year.