Marine surveys start for Cornish tin mining plan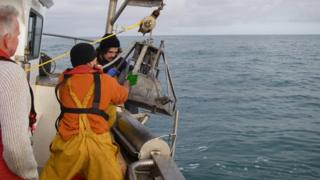 Marine surveys have begun off the north Cornish coast by a company which wants to collect tin from the seabed.
Marine Minerals Limited is assessing the location and quality of the tin found between St Ives and Perranporth.
Findings will be made public and form part of its application to the Marine Management Organisation for a full operating licence to begin.
However, opponents are worried the collection of tin could cause irreparable damage.
The £15m plan would see the Cornish company digging up sand to extract valuable tin, which washed out over the years from the numerous old mines on the north Cornwall coast.
'Dredging rejected'
The survey work will be carried out by the 79ft (24m) survey vessel MV Flatholm.
It aims to clarify the geology of the seabed and samples will be used by marine scientists and geologists to better inform the company of its make-up.
The work is expected to take about two weeks.
Campaigners including Surfers Against Sewage have previously said they fear the project could affect wildlife and tourism.
Dan Jarvis, from the Cornish Seal Sanctuary at Gweek in west Cornwall, said he is concerned the activity could discourage grey seals from using the area for breeding.
Commercial manager John Sewell said: "We are committed to high levels of environmental performance and have completely rejected the use of traditional dredging methods to bring up the tin-bearing sand."
A firm spokesman said: "The methods the company is investigating - sifting and filtering the sand at sea and returning about 95% of it immediately back into the seabed excavation that it came from - will be far more precise and economic than dredging."
The plans for a full operating licence will be subject to public consultation in 2014.