Call for second home planning permit in Cornwall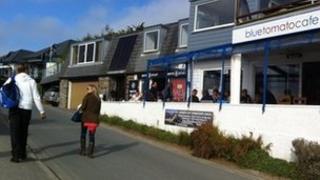 Homeowners in Cornwall could be forced to ask for permission to use their property as a second house or holiday let.
Cornwall Independent councillor Andrew Wallis has tabled a motion calling for the authority to lobby the government for planning law changes.
Mr Wallis said such changes could protect housing for local people.
More than 14,000 of Cornwall's 260,000 homes are designated as second properties.
In some areas, more than 40% of houses were second homes, according to the council figures released last month.
The parish of St Minver Lowlands, near Rock, has the highest proportion in the county, at 42.9%.
Mr Wallis said he had never been against second homes but added that changing the use of a house to a holiday let or second home should require planning permission in the same way as changing a shop into a house.
He said a new planning class would "help keep an eye on what's going on out there".
He said: "Anything over 20% [of homes in an area not permanently occupied] can have an impact the community.
"If you have a little bit of control, you can protect communities - schools and the pub are saved."
Last year, Cornwall Council's cabinet voted to scrap a 10% council tax discount on second homes.
The full council is to debate the motion next Tuesday.