Stranded Torpoint cliff pony rescued after four days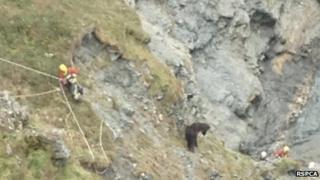 A stranded pony has been rescued after spending four days on a cliff ledge in Cornwall.
The pony became stuck about 70m (76yds) down a 100m cliff at Rame Head, Torpoint on Sunday.
Two firemen and an RSPCA officer were lowered down to coax the pony down on to the beach.
With no access between beach and cliff-top the pony was sedated and taken to Cawsand by Royal Marine landing craft.