Rob Jones patient apology from Cornwall hospital chief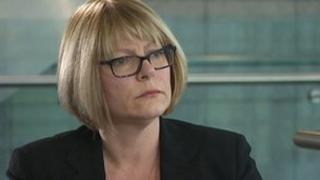 A hospital boss has apologised to patients of a surgeon who was allowed to practise over 12 years despite concerns over his ability.
Lezli Boswell, chief executive of Royal Cornwall Hospitals Trust (RCHT), said patients had suffered "pain and embarrassment".
Five independent reports were published into the practice of surgeon Rob Jones following repeated complaints.
It was found that 52 patients suffered complications.
A further 57 patients were recalled for assessment.
Ms Boswell, who took over in September 2011, said: "I'm extremely sorry on behalf of the Royal Cornwall Hospitals Trust.
"They have suffered pain, stress and embarrassment. It's important they do take confidence that we will make improvements."
Mr Jones was suspended last May after a report from the Royal College of Obstetricians and Gynaecologists highlighted serious concerns.
It found his patients had more than five times the number of surgical complications during hysterectomy operations than would "usually be expected" in a consultant's career.
Gloria Price from Carlyon Bay was a private patient of consultant Rob Jones.
She underwent a hysterectomy in 2002 but developed a post-operative infection.
Mrs Price said: "It changes your whole world when you can't do very much. I don't have the same levels of stamina. I do suffer from problems and pain."
Staff survey
In addition, results from an NHS staff survey show workers at the Royal Cornwall Hospital are among the most stressed and unhappy hospital staff in England.
When asked if they had witnessed potentially harmful errors, near misses or incidents in the last month, 43% said they had.
The survey was compiled from responses by about 48% of trust staff.
The trust scores the lowest ranking for overall staff engagement.
The lowest 20% for staff recommending the trust as a place to either work or receive treatment
The lowest 20% for staff motivation at work.
About half of those who responded said they had suffered from work-related stress in the last 12 months.
Ms Boswell described the report as "very disappointing."
She said: "I think it's important to state we have not paid sufficient attention to our staff. I am very aware of what staff feel and what we need to do, but it will take time."
It comes on the day the Royal Cornwall Hospitals Trust has also announced it needs to make savings of £15m over three years.
Ms Boswell said: "To make savings we look at everything; the way we use the buildings, utility bills, everything.
"Our ultimate aim is to protect staff jobs, to make sure the NHS in Cornwall and the Isles of Scilly delivers the best possible care, and that isn't through staff job losses."